In previous blog posts I have written about the SAMR model which is  a model which guides teachers and school in using technology effectively.  When we say 'effectively' we mean in the best possible way such that a significant impact can be achieved on learning.    There is a tendency in many schools and educational institutions to simply 'force in' technology purely for the sake of using technology and in many of these cases, they are merely being used as a 'substitution' device.   By this we mean that there is no functional improvement in using this device as opposed to some other tool.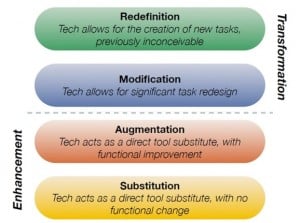 Throughout this trial, we have sought to find the best possible uses for the devices we are trialing.   We have found that these devices are best used in situations where no other device or tool will do the job.   One such example is that of screen recording in maths to make the children's thinking visible.
Below are three examples of screen recordings the children in 4SS have been working on using the app 'Explain Everything'.
This process and these movies achieve many things:
creating an opportunity for children to collaboratively explore their understandings
creating an opportunity for thinking (other than the teacher's) to be shared with the class
creating an opportunity for teachers to reinforce concepts and the process
creating an opportunity for children to learn from each other
creating an opportunity for teachers to identify misunderstandings that could then be fixed and explained to others
creating an opportunity for parents to be connected to the classroom teaching (by sending the  movies home)
creating an opportunity for children to be the teacher
creating the opportunity for students to be connected with others globally (via sharing these on the web).
creating an opportunity for feedback to be given
creating an opportunity to differentiate for students needing a range of methods of learning
Maths – Simple regrouping

Maths – Improper Fractions

Equivalent Fractions