There have been quite a few articles in the news lately in response to a report published by the Foundation for Young Australians.   FYA is a national for-purpose organisation that is all about backing the next generation of young people who are going to rethink the world and create a better future.   In this report  there are claims that up to 70% of young people are preparing for jobs that will no longer exist in the future.   Another recent report by the Committee for Economic Development of Australia predicts that 'almost five million Australian jobs – around 40% of the workforce – face the high probability of being replaced by computers in the next 10-15 years.".
It is hard to predict exactly what the future will be like.
What is certain however is that digital literacy is essential.  What is digital literacy?  There are numerous definitions.   One definition that has come out of research in Primary schools in the UK (Casey & Bruce 2010) is published below: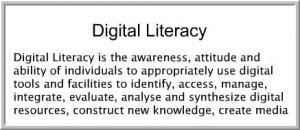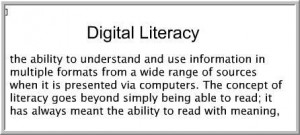 Additionally, digital literacy includes coding, data synthesis as well as the design and use of computerised and digital systems.   ACARA has a digital technologies curriculum which is currently being adapted for use in QLD.  As a school that already does a lot of work in this area, it will be interesting to see this curriculum when it is released.
Within this particular realm of digital literacy, we already offer robotics and the use of coding apps like Hopscotch in learning.   This week in one of our Prep classrooms, students are being trained in the use of Scratch programming to animate a rhyme they have written.   We are about to offer the Bebras Programming Challenge to a select group of students who were identified as those who would benefit from this opportunity as a result of the first round of QUEST.  Additionally, the use of personal devices has enabled a myriad of opportunities.  A quick search of our blog pages for 'coding' will show some of these.   Our students are well placed to further develop this area of digital literacy which is very exciting.