Lego WeDo is a fantastic tool, enabling students to learn, construct and then bring their models to life.    As an entry point to robotics, it is excellent – enabling them to learn in areas such as Literacy, Science and Mathematics whilst beginning to use the basics of robotics and computational thinking.
The above activity is based around the build of a 'Pull Robot' and has solid links to Year 2 ACARA Science and Year 4 ACARA Science:
Within Year 4 Science, the content descriptor for Physical Sciences:
Forces can be exerted by one object on another through direct contact or from a distance
Elaborations

observing qualitatively how speed is affected by the size of a force
exploring how non-contact forces are similar to contact forces in terms of objects pushing and pulling another object
comparing and contrasting the effect of friction on different surfaces, such as tyres and shoes on a range of surfaces
investigating the effect of forces on the behaviour of an object through actions such as throwing, dropping, bouncing and rolling

and within Year 2 Physical Sciences:

A push or a pull affects how an object moves or changes shape

Elaborations

exploring ways that objects move on land, through water and in the air
exploring how different strengths of pushes and pulls affect the movement of objects
identifying toys from different cultures that use the forces of push or pull
Students can build the base model and then explore how different wheels and different surfaces affect the speed and power of their robot.  They can hold a 'tug of war' between two to determine which model has had the most effective modifications applied to it. Additionally, within the areas of Science as a Human Endeavour and Science Inquiry skills, they can discuss 'fair tests' and how changes to variables affect this. They can also investigate how a range of people, such as builders or engineers use science to select appropriate materials for their work.
Lego excels in its efforts to make educational links clear and I think they have done the best job yet with this WEDO gear.   The teacher materials that accompany these kits are outstanding. Accompanying an app is a teacher manual which sets out some key projects for the users to be able to understand how to use the kits.  There is information on how to set up lessons, how to proceed with lessons and key things to remember to incorporate:
There is also information on the lego pieces within each kit: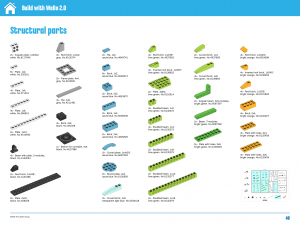 Within the app itself – that you must use to program the models – there are also portfolios built into it so that the users document their planning, building and reflections: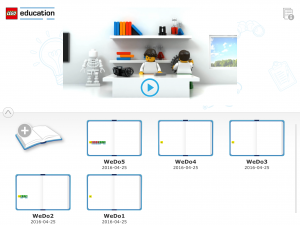 Then they are given a selection of models: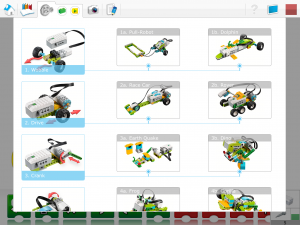 This view (beneath) shows a page of the portfolio with the camera ready to document their build:
They then start with an image of the completed model and are given step by step instructions on how to build.  The programming interface is at a drag and drop level – great entry into more complicated programming like the Ev3.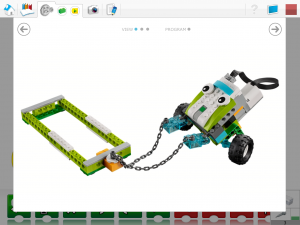 The next part of the app presents Guided Project  with topics such as 'Pulling', 'Speed', 'Robust Structure', 'Plants and Pollinators' and 'Drop and Rescue' – each of these presenting information, movies and discussion points before they guide the user to make the model: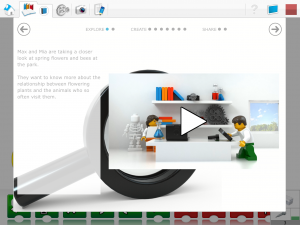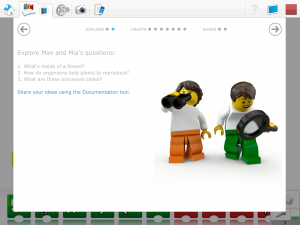 Here's a completed model of the bee pollinating the flower:
I particularly liked the reflective materials at the end of the module.  By getting students to reflect and share their findings, we are encouraging metacognition – an awareness of one's own thought processes.  Hopefully, by ensuring we include a reflective component in the lessons, the students will be able to apply something they have understood and learnt in subsequent lessons.