One of the days last week in our Library was a busy one in terms of the MakerSpace – it happened to be raining and so there were more students in the Library than normal and everything seemed to hum away very nicely.  It was lovely to see so many focussed on making, trialling, creating and helping others.
MakerSpaces are quite simply creative spaces.  They are certainly STEM spaces but also STEAM as they can include artistic elements and particularly design elements.  Every Makerspace is different and so they should be as they need to meet the needs of the users and the community in which they are.   They are essentially open-ended exploration spaces and spaces in which students can take control of what they are learning.  The voice of the learner is key to the design and everyday workings of MakerSpaces.   I  think it's probably quite common to get over-whelmed by the idea of Makerspaces and to think that what you are doing is never going to live up to what you have seen happening in other places…..but I think that is misguided.  Any space where kids are making, creating, collaborating and directing what they are doing can be called a Makerspace and Libraries have always fostered this kind of thinking and working.
Our TechKIDS are essential to what is happening with our MakerSpace.  They lead activities and provide assistance when it is needed.  They look after the gear and make sure things are packed up at the end of the sessions.  They also provide direction with what we might do each term.
The OzoBot TechKIDS group were on fire on this day. They had been complaining about the fact that their little bots weren't working very effectively but I think they have discovered a few things – one is that these little bots seem to prefer a nice solid line to follow – often one that is drawn by a chisel point.  The other thing is that our new whiteboard table covers seems to be too reflective to be very effective in terms of the ozobots.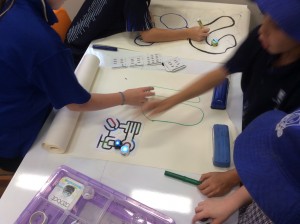 The LittleBits have been excellent lately and many children have been discovering their wonders.  These little 'bits' of gear click together as circuitry prototyping equipment.   The focus and intent on little children's faces was quite delightful.  I also provided a couple of boys with a set of wheels which they were delighted to receive as they were able to connect them to DC motors and make a moving vehicle.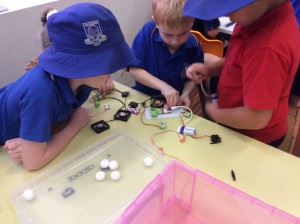 There were some Year 4 students learning how to use Scratch animation: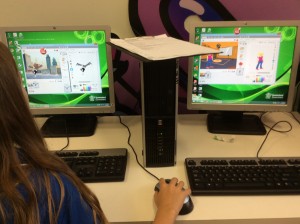 The Scratch Jnr TechKIDS were working with some younger students using this junior version of Scratch: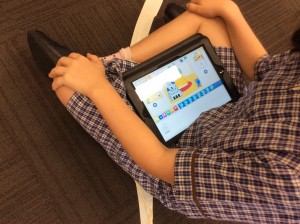 And there were some students using an app titled' Alchemy' at the Stop Motion Animation station which seems to be an app in which combine elements to make things……a bit like a Minecraft crafting table app.  🙂