This program is now in the final two weeks of the first round or first prototype.    It has been a hectic, exciting  and energetic time for all involved.  Adults participating and contributing have included:
William – our CodeTheFuture volunteer, Aaron – our multi-talented BYO tech mentor, Mrs Sansness and Mr Burow – our arduino experts and Adam – our school technician
Many teachers including Ms Riddell, Ms Thorpe, Mr Roche, Mrs Harris, Ms Voigt, Mrs O'Connor, Mr Baker, Mr Bayliss and Mr Marsden
Numerous helpful, supportive and generous parents.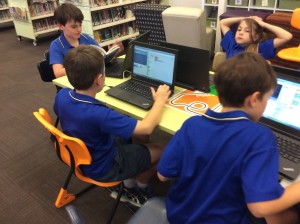 We have had about 100 students enrolled in the program this term – a total of 6 workshops over the two days each week.  The students have been engaged with a wide range of stimulating, hands-on activities designed to start to instil in them the mind-set, tool-set and skill-set of innovation.   This has included engineering design, coding, robotics, design thinking, 3D printing, the physics of rocket design and electronics.  Aspects of entrepreneurialism have crept into the GirlsTech group as we look forward and consider ways of utilising our 3D printer.
Young Engineers have:
talked about design and the engineering design process
have learned about the importance of collaboration and problem-solving
designed and built a marble run
designed and built a pom-pom launcher
designed and built a tower using only dried spaghetti and marshmallows.
have built their first LegoWedo robot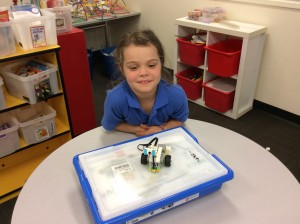 Girls Tech have:
worked with the RoboGals from UQ
discussed the importance of being able to respond to local problems and brainstormed local issues.   One group of girls are now collecting data on temperature in various sites in the school using 'WineMaker' devices – to which Mrs Munro and the girls have  applied a 'hack' so we can modify their purpose to allow data collection and analysis
hosted a visit from Anne Ozdowski who spoke to us about the design and creation of her app to assist autistic children to write in a persuasive manner
are now engaged in a rotation with three activities – robotics with Mr Bayliss, 3D printing with Mrs F and circuitry with Mrs Munro.
Scratch Coding Group:
have worked on various projects which have included variables, loops, 'if then' blocks.
have created animations, games and stories.
has supported groups working towards the Young ICT Explorers competition to work towards their goals.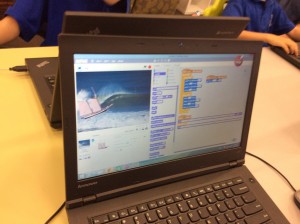 Kerbel Space Program:
have built upon their understanding of physics to progress close to effective rocket launches
Arduino Group:
have become problem-solvers and have also fine-tuned their resilience to make fantastic progress in using these micro-controllers.
BYO/Young ICT Explorer Group:
have supported quite a few individual projects
have supported some Young ICT Explorer Projects
have exposed the younger students to Lego Wedo in a study of mechanics
have exposed the younger students to visual programming using sphero
have exposed the younger students to the use of Dash robots using visual programming