Year 1 are covering an English unit at the moment in which they need to be able to retell stories and to show they understand the sequence of events in a story.  Currently in 1F, the students are looking at some Aboriginal myths and legends and reading some charming stories in which both the text and images are simple and sequential.   The focus of this lesson was a myth titled 'How the Birds Got their Colours'.
To start the lesson, Mrs Fisher gave out laminated images depicting the key part of the story.  She then read the story and the children holding each section jumped up and stood in order so that they were representing the plot as a sequence of images.    When the story was finished we were able to talk through the plot again looking at the images being held by the children.
Our intent then was to move to a pair retelling of the story using appropriate technology.  We moved to shared iPads and opened Explain Everything.   In Prep, these children had created a charming puppet style animation of "The Three Billy Goats Gruff".    They had also revisited Explain Everything this year in exploring the idea of characters.   So, this app, which enables pictures to be drawn, text to be added, objects to be moved around and then voice and screen to be recorded, was perfect for our purposes.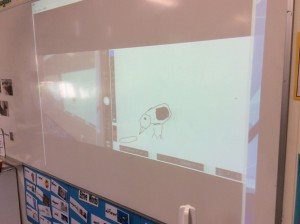 We worked with the children to draw each of our characters and to practise that particular part of the story as we went.  The children would take it in turns to move the characters and say that part of the story.     As we progressed, we added more characters and the story become longer.    Although English was the focus and ICT as a general capability another consideration in the children's learning, it is interesting to think about the new Digital Technologies Curriculum and how there were aspects being addressed without even noticing.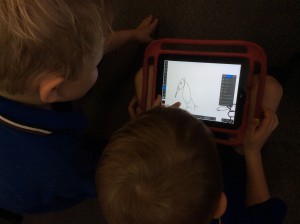 As our school is an Early Launch school and because we have started mapping elements of this curriculum against other areas, it is useful to reflect on this lesson and think about these connections more deeply.
Digital Technologies Knowledge and Understanding
Recognise and explore digital systems (hardware and software components) for a purpose (ACTDIK001)   The students were drawing pictures using a piece of software and then using many tools within this software for a purpose.  They were air-playing their creations to the big screen and sending completed animations to the camera roll.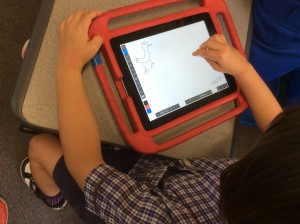 Digital Technologies Processes and Production Skills
Collect, explore and sort data, and use digital systems to present the datacreatively (ACTDIP003)  The students sorted out the data from the story and sequenced it.  They then used the app to present it in sequence in a creative manner.
 Create and organise ideas and information using information systems independently and with others, and share these with known people in safe online environments
(ACTDIP006)
The students were planning and creating a story to share and in this case it was with each other and with the Prep students who visited that afternoon.   This was a practice but when they complete their final versions of a different story, we will talk about sharing online and how to make ethical decisions about this.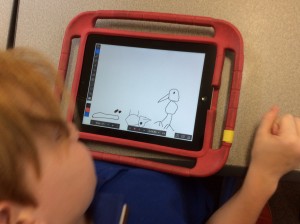 The final task was for students to work in their pairs to record their retelling.  The below is just an example of how one group went with this: