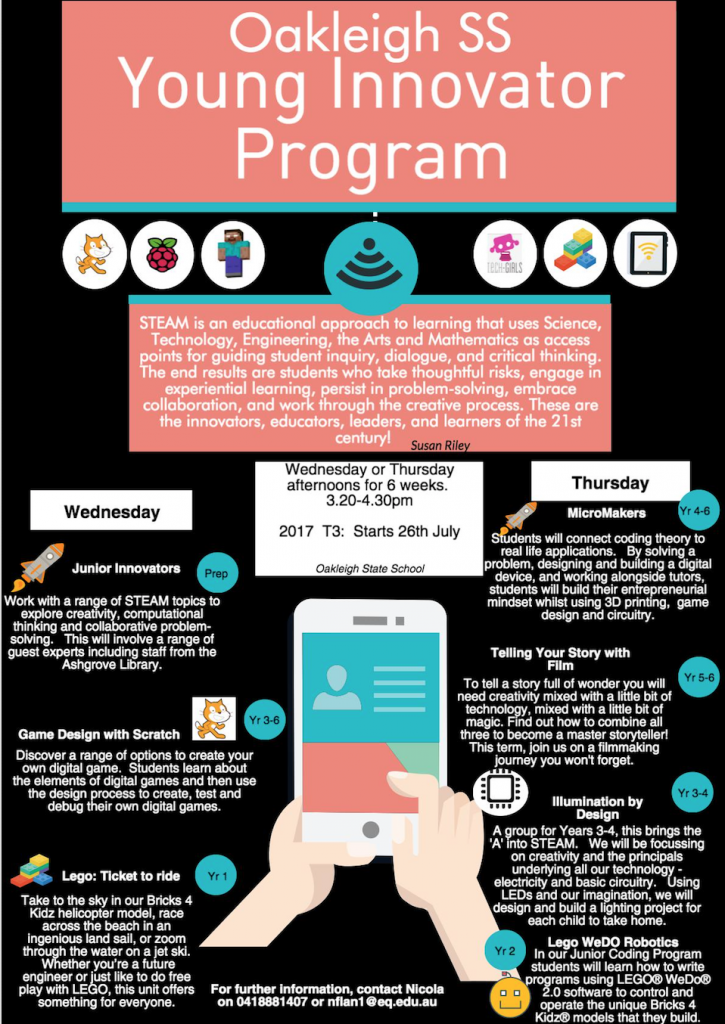 There is some very impressive learning happening in this term's Young Innovator Program.  Most impressive to me is the process of inquiry that many groups are following that, when combined with design thinking, is providing the opportunity for students to become creators of solutions.   In our Australian Curriculum, Technologies – the design of solutions is at the heart of the learning.   Within Design Technologies, it is the creation of designed solutions whilst in Digital Technologies, it is the creation of digital solutions.  The visual depiction of this curriculum is below with some further text added to highlight the fact that Process, rather than Content is king within this curriculum.
It's also interesting to align this work with our School Vision – 'Empowering our community of learners to create a legacy which redefines the world'.    All of the workshops within this term's Young Innovator Program are providing clear models of inquiry and design which puts children in the position of being creators of solutions.  What a wonderful opportunity to empower kids with the kind of learning that adds the tool of creation to their toolkits!
Junior Innovators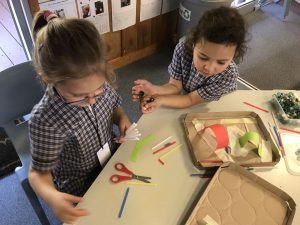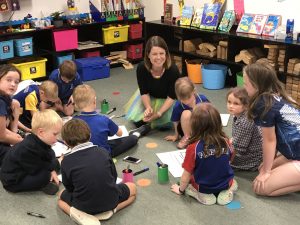 These children were split into two groups – 1 group were using ozobots as a means of understanding some basic computational thinking whilst the other group looking at the design and creation of a marble run using a small collection of materials.   For both groups, the mindset was all important here – the idea that they would trial ideas, test them out and then try to make them better.  The marble run builders actually watched some impressive movie clips of other marble runs first which made them very ambitious in their planning.  They were then provided with a collection of materials to do this – the constraints encouraging their creativity even further.
Junior Lego
These students enjoyed making amusement rides which used gears and a motor. I did find myself hoping however, that the riders were secured in their seat as the speed of those flips and turns was quite impressive!
Year 2 LegoWEDO robotics
The Yr 2 students enjoyed the challenge of Lego WeDO robotics. To get them started, they were making a paper crinkling machine.  The idea with these students in this group is that they understand the basics of design and engineering when combined with a robotic platform.  The opportunity that exists is through encouraging them to explore the use of robotics -not just  as a number of tasks to tick off once complete – but an opportunity to uncover design tweaks that deepen their understanding, allowing their creativity to flourish.
Scratch Coding
Game design within Scratch is always popular with our Yr 3 and Year 4 students.  I love watching the mindset that is developing amongst these repeat Scratch coders – although their skills develop quite impressively, it is the resilience and persistence that flourishes that I find the most interesting to watch.
Illumination by Design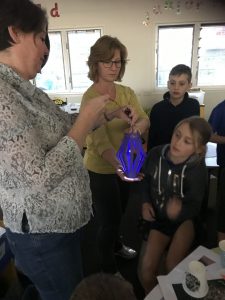 Run by two of our parents – Susan Munro and Rachel Prince, this activity is aimed at the design and creation of a lampshade.  To do this, the children first had to understand basic circuity which was explored today during a process of inquiry immersion.   At the end of the session, the students were shown a range of lampshade designs to get them thinking and dreaming.  It was a great start to their inquiry!
Advanced Film-Making
These students have a wonderful opportunity to work as an older group, and to explore ways to tell their story through film.  In the curriculum in Yrs 4-6, there is an English unit each year which focusses on film-making techniques as part of a storytelling approach.   This program offers these students a lovely way to bring together all they have learnt to make something quite meaningful. Where would be be with stories and the people who are able to bring them to life?
Micro-Makers
Emily De La Pena's group of mentors and coaches are doing some amazing work with these children who are working to identify problems they would to like to solve.  They are then going to follow a process of design to make a  prototype of a solution.