The children in the Lego WeDO workshop (for Yr 2) are making amusement park rides this term during our Young Innovator Program.
They are following design plans which show the way to put models together using different blocks, wheels and gears connected to a motor which is then controlled by a coding program on the iPads.   The two children below look very happy with their model which is designed to swing the rider around a central piece.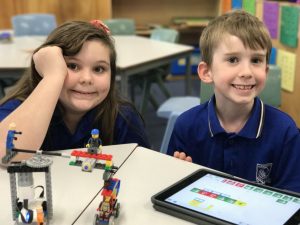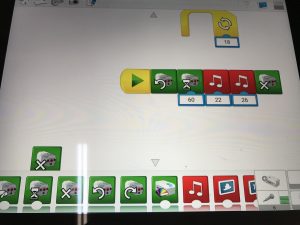 Alex was then prompted to keep building on his model to make it better and he added a wheeled part to it on the outer edge with the wheels touching the ground to make it appear that it was driving – it's wheels were actually connected to the ground and did turn.

Upon further prompting as an audience commented on the movement, he then added a drawing tool onto a part of it that would achieve a circle image.  He tweaked it and debugged it before being happy with the smooth circles being made.  We all sat and watched and commented on the artistic potential of this drawing machine invention!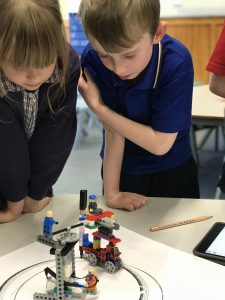 When thinking about the Australian Curriculum – much of STEM learning can be underpinned by the Critical and Creative Thinking General Capability.   Pictured below is a visual representation of this General Capability along with some of the descriptors from the Learning Continuum for this area.    When thinking about this Lego WEDO activity, many of the Inquiring and Generating areas are represented by the way that the children worked and especially those who went further than the the basic commands and expectations.    In doing this they were synthesising, assessing, analysing and applying information they had taken on board as a result of their previous experiences in building the first version of the model.  In this way they were forced to dive deeper and analyse things logically.