With our first year of STEAM visioning with our community behind us, we have happily arrived at a vision which suits our learners and our school:
Additionally and significantly, as a community of learners, we have also spent the last 2 years inquiring into how design thinking supports inquiry.  There have been several key events which have assisted us to progress this work:
This started with our teachers becoming involved in rounds of 'Practitioner Inquiry'.
This was a professional learning model which supported the teachers to select an area  (aligned with our school's strategic plan) for improvement in their classrooms.     They were encouraged to use data to select this potential area for improvement and to build  empathy of the learners in their room through a range of strategies and practical activities.   They 'immersed' themselves in all sorts of data and information a this time  in order to better understand the potential for possible lines of inquiry.   Key to this stage was resisting the temptation to make immediate assumption about what their line of inquiry would be.  To assist this, we encouraged an open and divergent mind set.
The teachers then moved into another phase which encouraged them to make connections through looking at patterns in all that they had collected.    They then identified a line of inquiry through the creation of a 'How might we….?' question.    A stage of prototyping a possible tool was next and then we shared the results at several staff sharing sessions.
This work set the foundations for all the work that has come since then.
We then used aspects of design thinking in whole school inquiry sessions – including our 'Young Innovator' Program Think-Tank.
At this evening, we worked with our community to address the question of how we might support our young innovators of the future.  We had been named an Early Launch School of the new Digital Technologies Curriculum at this time and we were keen to set an innovative path very early on for what this could look like at Oakleigh State School.
Using assistance from Tom Barrett of NoTosh (now DialogicLearning), we concurrently worked on the design of an ambitious school vision:
Significant in Tom's support of us during this work was his encouragement to go further, dream bigger and to avoid the usual empty statements that 'education speak' can often provide.


Several teachers then trialled the use of design thinking in their classrooms for either curriculum planning and/or class design, problem solving and creativity work.
Mrs Sansness led her year level group on a curriculum planning session to design a Geography/Digital Technologies unit which required of the students to design a digital solution to preparing their community for disaster.
Mr Bayliss  and his fellow teachers of Mrs Hooper and Mrs Thompson,  in Yr 6 then used design thinking as a framework for inquiry, problem solving and creativity within many of the curriculum areas.
The Technologies Curriculum featured Design Thinking as one of the three key forms of thinking. 
As an Early Launch School of the Digital Technologies Curriculum, we found we were in an excellent position to be planning units of work in which students became designers of digital solutions.   Our teachers had received early and very personal experience of using the process  during their Practitioner Inquiries; this proving incredibly beneficial for us in our journey with this new curriculum.
As a community we then worked on what we wanted for a a STEAM or STEM vision.
This included surveying our community and working with our staff to decide on what the key features of such an approach would be and whether the ARTS would be included in such an approach.  At the end of 2017,  with contributions from a range of people within our community including our Regional STEM Champion, we arrived at our current vision:
Key to our STEAM approach would be the inquiry led nature of our work and the need to make such learning in context and real world.
We then started a phase of work which involved investigating and exploring what inquiry within STEAM would look like.  We continued to develop a growing understanding of the alignments and the potential for design thinking to support inquiry.
With Mrs Sansness having returned from a term in New York as the 2017 Cooper Hewitt fellow, we worked together to create a student friendly, OakleighSS friendly version of a model.  This model could be used by students in their inquiry and design work as well as teachers in designing units of inquiry led work.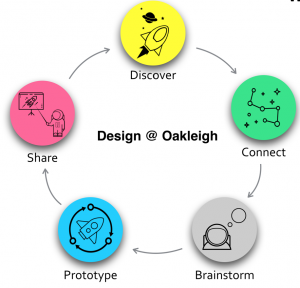 Curriculum planning sessions proceeded using hexagonal thinking.
This is a technique to encourage connection making through the examination of outcomes and content descriptors from our Australian National Curriculum.  Our focus was on the creation of possible lines of inquiry for STEAM units across our school.   When visiting Sydney in early 2017 , we saw the process that Chad Ferris and Steve Borthwick were using at their school and were fascinated and excited by the potential.    There have been clear benefits of this process for our teachers:
They are encouraged to work collaboratively to 'unpack' content descriptors which encourages a deeper level of understanding than if a prescriptive work plan was being used to teach a particular concept.
In understanding content descriptors across a range of curriculum areas, connections are easily made – creating potential for lines of inquiry across several curriculum areas.
Teachers with areas of expertise are often utilised extremely well with the whole group drawing on their knowledge and skills to understand different areas of curriculum.
We are in the midst of this process but already quite excited about the progress that is being made for our community of learners. 

Importantly, we have found that the development of the toolset, mindset and skillset needed for successful inquiry can be scaffolded through the use of design thinking.  This has included work at a strategic level, teacher inquiry level and the classroom level.