We started off our most recent curriculum STEAM planning sessions with a conversation starter activity about what we wanted to achieve in terms of our STEAM inquiry units.   This helped us to focus on the student as a learner and to also transition from a classroom teaching headspace at the end of a busy term – into a headspace which would be conducive to planning.
After discussing this, we then used a fun activity to discuss things that we needed to do to be able to achieve these engaged, collaborative and creative students.  This was the movement through a maze (to get to these students),  listing all the actions that needed to be taken and the elements which needed to be present.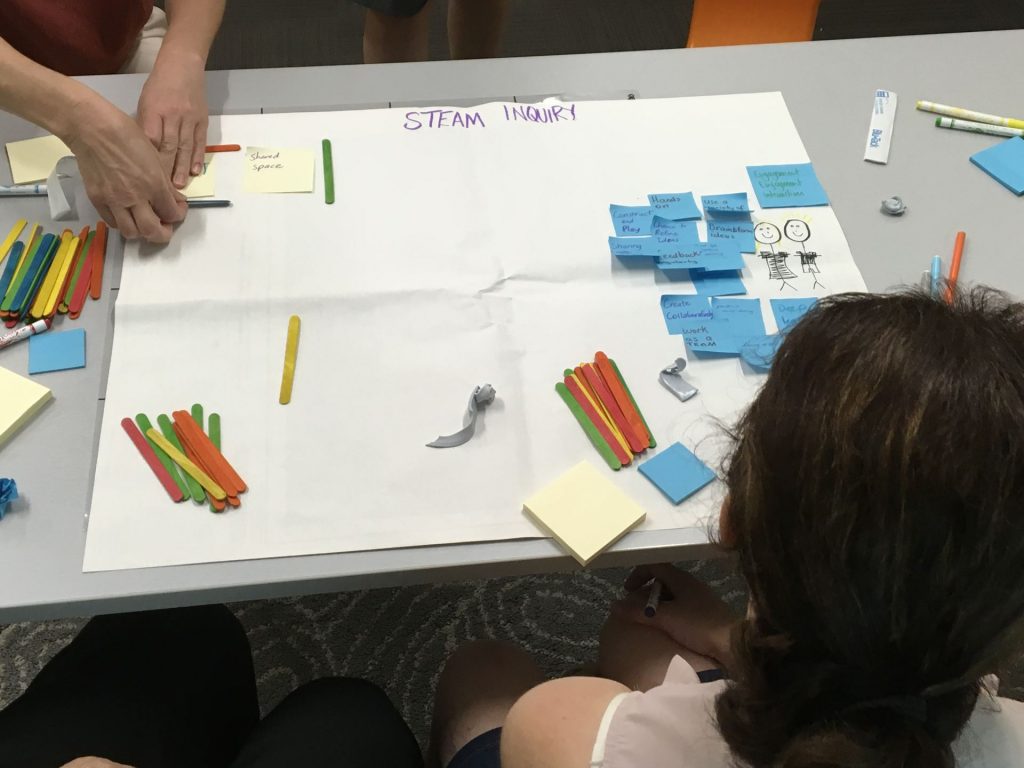 Constraints also had to be addressed and these took the form of little ghosts that appeared within the maze.
We then moved to our curriculum connection finding activity.    The purpose of this is to identify which parts of the curriculum have a more natural fit than the guidelines previously followed and then to focus on just one cluster to create a line of inquiry within this.  This is an amazingly productive activity – assisting teachers to connect with areas of the curriculum and then allowing them to articulate their understandings of the curriculum.  With the new Design Technologies Curriculum, we are also working to unpack areas of this across bands and this is a further and very valuable opportunity for us to understand it.
It was interesting to work with this new Design Technologies Curriculum and to see where it aligned with our emerging work within STEAM.   As a school, we are coming to a growing realisation that the curriculum of Science and the curriculum of Design Technologies creates many opportunities for alignment when designing curriculum.   As the curriculum structure for Design Technologies contains Knowledge and Understanding Content Descriptors and Processes and Production Skills Content Descriptors, a  focus of our work as a school is to ensure that across a band, the areas of Knowledge and Understanding are being taught and assessed  and there was a lovely example within our Yr 2 work that demonstrated a perfect alignment:
Science Understanding Content Descriptor in Yr 2
Design Technologies Knowledge and Understanding Content Descriptor within F-2:

The Year 2 students already work with a unit in Science that involves the design and creation of a car.  Because of this lovely curriculum alignment with Design Technologies, there  is now an opportunity to include digital technologies in the form of Lego WeDO and to support them in their computational thinking work (Digital Technologies Curriculum).
Because every year level will assess the Process and Production Skills – there is no need to identify where each of these will sit – but not so with the Knowledge and Understanding skills.    The work we are doing this year will mean that we have a clear plan for 2019 based on the work done in 2018.
This was a great end to the STEAM planning work we have been doing this term.  There is still much to do in terms of Curriculum Planning and assessment.  There is the coaching and support aspect also as our teachers start looking at teaching these units.