The Science of forces and the use of forces in designed engineered systems was a focus for planning, teaching and assessment during this Semester for our Yr 4 teaching team.  This STEAM unit was framed around an inquiry for this group of students about the popularity of Minecraft on a Thursday in our Library.  The students were provoked in their thinking by viewing mages of the crowded library with heads all bent over their iPads and questions were asked about whether we could harness the positive aspects of this scenario to design a different kind of experience.
The final sharing of the arcade games occurred last week and the air of excitement, ownership and agency from the students was fabulous:
The overview of the unit is below and it highlights the main connections (bordered in red) but also others that could be leveraged in order to bring the context alive for our students.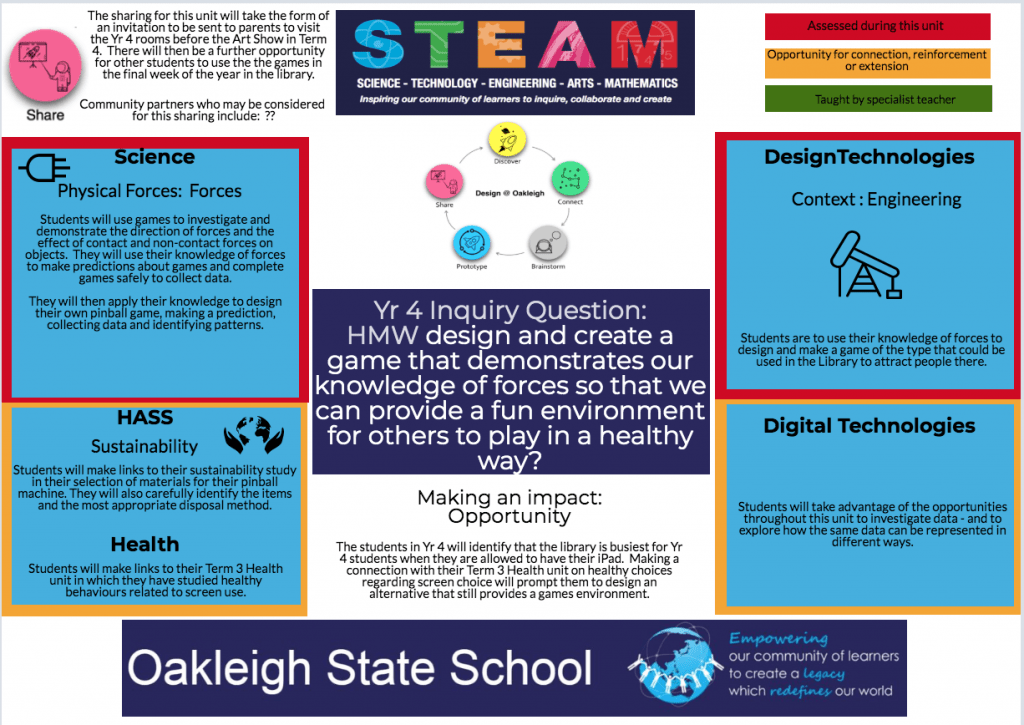 It's important to note that our STEAM units at Oakleigh SS are driven by an authentic inquiry.  In this way, we are intentionally aiming to support the mindset, toolset and skillset of inquiry and design as much as we work to support the building of content knowledge in any one curriculum area.  The General Capabilities of the Australian Curriculum, particularly:
Critical & Creative Thinking

and

Personal and Social Capability
are those that are particularly suited to be leveraged in order to bring the inquiry alive and to add depth to the teaching and assessment.
As a school, we have taken advantage of  opportunities created by the Digital Technologies Curriculum for several years and identified contexts within other curriculum areas for the design of digital solutions.  With our STEAM agenda becoming a community priority in 2018 our attention turned to the identification of connections and overlaps between the Design and Technologies curriculum and Science. Over the last two years, we have worked to identify these authentic connections but also to understand the distinctions.  With this in mind, we have set about designing units of work with a clear  intent to prioritise inquiry whilst retaining the intent of each curriculum area.
Within this unit the Science of forces foregrounded the design work. The design project enabled them to apply their learning with the designs informed by their science knowledge. It's important to note however, that science was taught and assessed as a separate curriculum entity.  The designed engineered solution then provided the opportunity to teach and assess a designed engineered solution.  There were certainly opportunities for teachers to gather evidence during the Design & Technologies task that might have reinforced their assessment judgements made in Science but it was entirely more appropriate for Design & Technologies to be the focus during this task.
As part of our ongoing work in this area, we have identified the following connections and overlaps between Science and the Knowledge and Understanding strand of Design and Technologies:
Technologies and society

&

Science as a Human Endeavour
Context of Engineering

&

Physical Science
Context of Food and Fibre &

Biological Science
Context of Materials and Technologies Specialisations

 &

Chemical Science

As a school, we are still working out the best way to take advantage of connections and overlaps.  The opportunity for students to apply their knowledge attained in Science is one of the ways that we promote through the structure of our STEAM units.